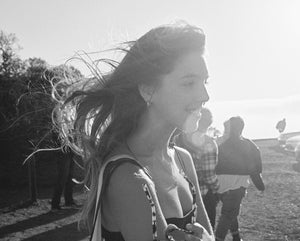 Take one, SPF application with Kate Rickard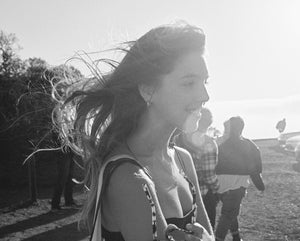 Meet Kate Rickard. She is one hell of a character and immediately you are instantly drawn to her energy, smile and spontaneous laugh.  At just the age of 23, I feel there are a few things we could all learn from her. She has a great perspective in life & can sparkle energy throughout a room. Not to mention, her great music taste.
We may get to know her a little more, as we do a few more essone takes. Here's our first, "Take One."
TELL US A LITTLE BIT ABOUT YOURSELF
I'm from North Carolina in the US and really cherish growing up down South. There's a certain lifestyle in North Carolina - slower in pace than the rest of the US, kind people, and great culture. I was a dancer for 15 years so proper health and exercise are values that I live my life by.  I'm a firm believer that beauty is an inside job and shines from your inner work. The inner work for me is made of up the food I eat, the quality of my relationships, practicing mindfulness, meditation and yoga. And getting in a good belly laugh each day.
WHAT IS THE BEST PIECE OF ADVICE YOU HAVE EVER RECEIVED
The present moment is all you ever have so choose joy, gratitude & love
AND DO YOU FOLLOW IT I try my best :)
FAVOURITE SWIM SPOT
The last beach I was at was St Clair in Dunedin. It's not too bad of a drive from Queenstown. Not to mention, it's gorgeous and not too crowded. So, that's my favourite swim spot in New Zealand but back home I love Sullivan's Island and Hilton Head both in South Carolina.
THE BEST THING ABOUT SUMMER 
Daylight savings, late nights outside, and growing tomatoes
THE BEST THING ABOUT WINTER 
Lentil stew
FAVOURITE SUMMERTIME FEAST
 VEGGIE TACOS or a giant tray of grilled veggies with good wine
MUSIC YOU WILL NEVER STOP LISTENING TO  This is super hard as I grew up in a musical family listening to amazing musicians. My parents are basically hippies and my dad is in a band. But two musicians I will never stop listening to are The Black Keys and The Allman Brothers Band. And the Rolling Stones. Ah, and Tame Impala.