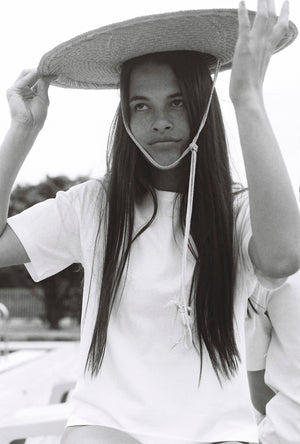 Ophelia Mikkelson: Art direction & Photography for "Sherie Muiijs recent summer poolside campaign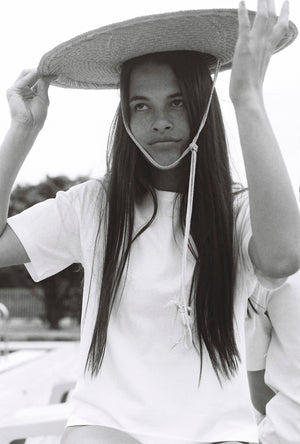 TELL US A LITTLE BIT ABOUT YOURSELF
My name is Ophelia, I am an artist and photographer and I live in the Coromandel New Zealand, with my husband Ryder.
HOW DID THE CAMPAIGN COME TOGETHER
I worked closely with Sherie (Sherie Muijs) and Yasmine (Anyonegirl) to uncover a feeling that we wanted to evoke in the SM summer campaign. Sherie had worked alongside Marta Buda to make the colours of the T's -an icey swimming pool blue, a buttery yellow and a dijon mustard- so the Parnell Baths seemed to be the perfect location when we visited. We wanted to capture long summer afternoons, poolside, the sun on wobbly water, skin dewy from sunscreen, googles marks around your eyes, clear summer light, hotdogs, tomato sauce and mustard. The feeling of slipping into a clean shirt after swimming. We used artist Ryder Jones' sculptures 'Sun' and 'Mother and Sun' to bring sunshine to the clouded day and the girls, who are two of three triplets, wore no makeup and just essone on their skin. 
THE BEST PART OF YOUR JOB
I think the best part is feeling free, creating beauty and when someone says 'I trust you what you want to do'.  
FAVOURITE SWIM SPOT
At the end of our garden, the path turns into dunes and the dunes into the sea. That's my favourite spot!
BEST THING ABOUT SUMMER
Long days, swimming in the ocean before breakfast, lunch from the garden, moonrise after dinner. 
BEST THING ABOUT WINTER
Sunrise, hot soup, and wearing my green jumper.
FAVOURITE SUMMERTIME FEAST
A bowl of watermelon, feta, lemon juice, mint and chilli. Fresh fish cooked on the bonfire!   XXX